Meet Jim Greenbaum | Humanitarian, Philanthropist, Vegan
We had the good fortune of connecting with Jim Greenbaum and we've shared our conversation below.
Hi Jim, is your business focused on helping the community? If so, how?
My motto: "Being a bystander to suffering is not an option."
I entered the business world with the intention of making money to later use to make the world a better place. 23 years ago at age 40, I began my foray into becoming a full time philanthropist. For 12 years, I focused primarily on human rights issues such as combating human trafficking, child marriage, gender based violence and female genital cutting. Then, after becoming vegan 12 years ago, I soon came to learn that were the world to adopt plant based diets, around 70% of the major global problems would be significantly ameliorated and governments would then have trillions of dollars available to address other issues.
Animal agriculture is the biggest contributor to greenhouse gases, destruction of rainforests, dead zones in the ocean, food insecurity, heart disease, type two diabetes and Alzheimer's. Globally we kill around 85 BILLION land animals for food each year. That's almost as many as the number of humans that have walked the planet since the beginning of time. And fish? We kill 2 – 3 TRILLION each year. At that rate, our oceans will be dead in a number of years, and life on this planet will never be the same. And we wonder why the planet and human health are in crisis? The answer is simple. It's the choices we make daily in the foods we eat.
I am on a mission to move the world to adopt plant based diets and vegan lifestyles. To that end, I publicly committed to contributing at least 85% of my assets to charities during my lifetime and the remainder soon thereafter. My current annual grantmaking is in excess of $5 Million. I am also an active Executive Producer involved with many documentaries including "The Game Changes," "Seaspiracy," "Cowspiracy" and "What The Health."
Let's talk shop? Tell us more about your career, what can you share with our community?
Finding Balance In Life
Like everyone else, I struggle to find a balance in life. I feel as if I've succeeded in finding balance with Work/Play and Personal time/Family time. It's the issue of Spending on oneself/Charitable giving that's been an ongoing struggle.
During my early years of being a full time philanthropist, I lived in a large mansion on 5 acres in the San Diego area. I had several sports cars and lived a somewhat lavish lifestyle. When I had friends come to the house, I always felt compelled to let them know that I donated to charities each year much more than I spent on my lifestyle. I also generally chose to meet potential nonprofit grantees at coffee shops rather than have them see what I now perceive as that ostentatious home.
The organizations I support save lives and alleviate some of the most unimaginable and horrific suffering on this planet, both human and nonhuman. In one movie for which I was an Executive Producer, "Not My Life," a film about the horrors of human trafficking, there was a scene wherein a human rights activist stated something to the effect of, "How can I live a good life while there are people enduring so much suffering." That statement has haunted me for more than 10 years. Every time I want to spend money for material goods or expensive trips, I think about that statement and try to evaluate whether or not it is actually moral for me to spend the moneys.
While over the years, I've downsized significantly — my current home is one-fifth the size and on a quarter acre, and I now have only one car, a Toyota Rav4 — I still struggle with finding that balance on personal consumption. It's only recently that I have come to realize that this struggle is a healthy one, and something that almost certainly will be with me for the remainder of my life.
If you had a friend visiting you, what are some of the local spots you'd want to take them around to?
There are people who eat to live, and others who live to eat. I'm a foodie and definitely in the latter category. Los Angeles, and especially the West Hollywood area where I live, is home to some of the best vegan restaurants in the world. Among my favorites are Crossroads Kitchen, Pura Vita, Nic's on Beverly, Plant Food & Wine, SunCafe, and Vegan Glory.
I also love live music, especially Broadway musicals. So, if there's an amazing play in town, that will be on the agenda. I recently discovered "Broadway at the Bourbon Room," and look forward to attending many of their future events.
As to the obligatory beach walk, Zuma Beach in Malibu is my favorite.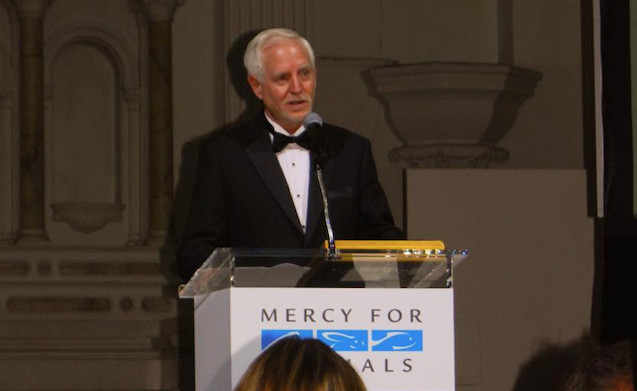 Who else deserves some credit and recognition?
My initial plan had been to make my private foundation one that would continue for generations. After coming across a book about the life of Chuck Feeney, "The Billionaire Who Wasn't," I began rethinking my approach and soon decided to spend down my assets and those of my foundation during my lifetime. Thus, I want to thank Chuck Feeney for having inspired me to rethink my approach.
I also came across a TED talk by philosopher Peter Singer on "Effective Altruism." It was inspirational to learn that there was now a name for the approach I had been taking to my life and philanthropy. I thank Peter Singer for his efforts to bring attention to this vital approach to philanthropy.
In my philanthropic work, I've come across some of the most amazing and inspirational humans on the planet. These thought leaders and activists work tirelessly to make the world a better place. Their spirit and dedication gives me hope for humanity.
Website: https://www.greenbaumfoundation.org
Instagram: https://www.instagram.com/jim.greenbaum
Linkedin: https://www.linkedin.com/in/jimgreenbaum
Facebook: https://www.facebook.com/JimGreenbaum
Nominate Someone:
 ShoutoutLA is built on recommendations and shoutouts from the community; it's how we uncover hidden gems, so if you or someone you know deserves recognition please let us know 
here.