Meet Amy Talluto | Artist & Podcaster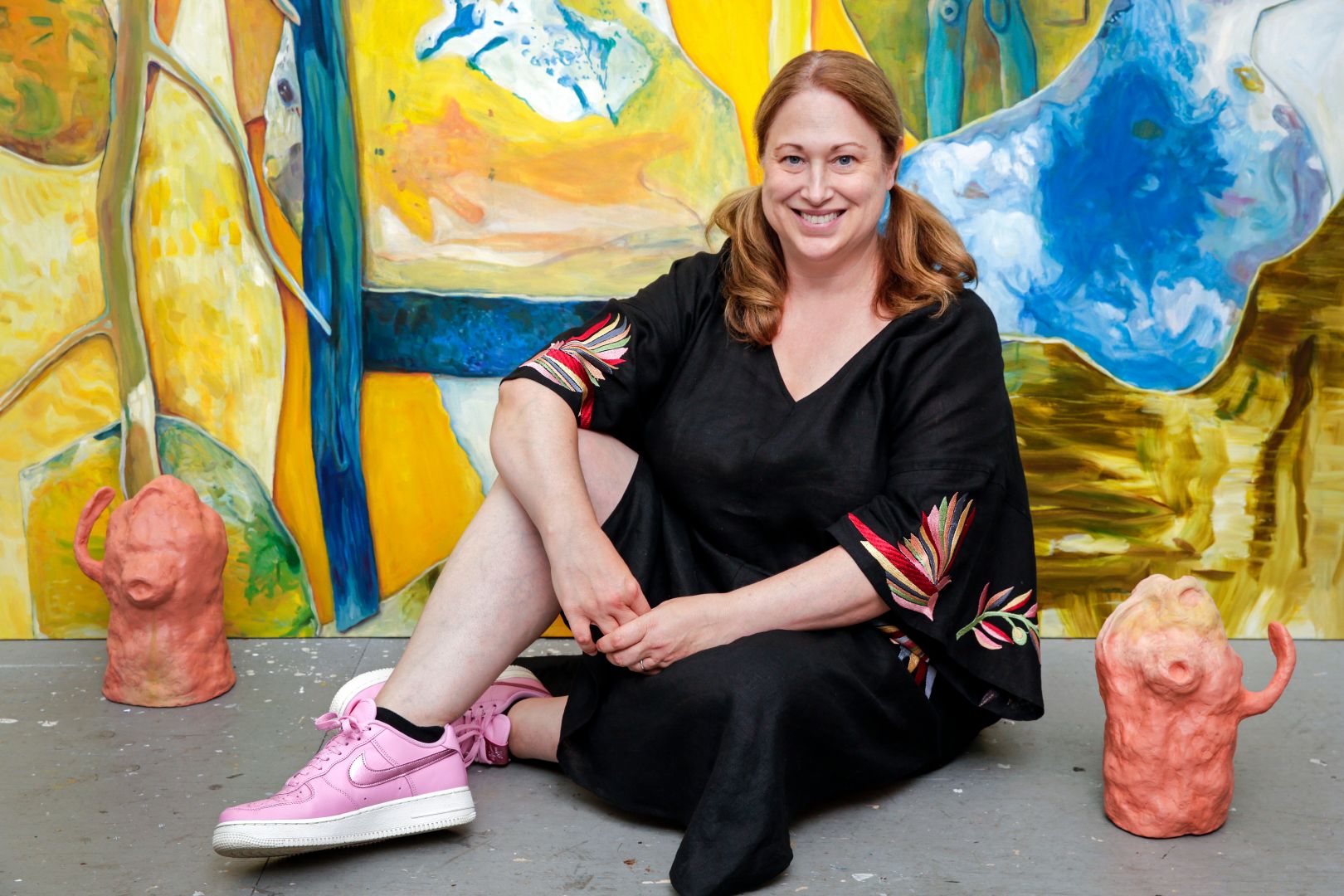 We had the good fortune of connecting with Amy Talluto and we've shared our conversation below.
Hi Amy, what role has risk played in your life or career?
I like to think that I'm a risk-taker in my work and life, but maybe that sounds braggy? One thing I WILL say is that there is a great book with an amazing parable about risk that has inspired me many times over the years. The book is called "Hope for the Flowers," and was written by Trina Paulus in 1972. It's kind of a "Road Not Taken" cautionary tale,..only, starring cartoon caterpillars (I profile the book in Episode 30 of my podcast). The moral of Paulus' story is that it's better to go your own way and "risk the butterfly" than it is to continue futilely climbing up a "caterpillar pillar" with everyone else.
It felt like a big risk when I left New York City for Upstate NY…kind of like leaving the "scene" or committing career suicide. It was definitely a "Risk the Butterfly" moment. But since then, I've discovered a great community of serious artists here and I feel like it was the right choice for me.
But, Risking the "B" can have other applications too. Maybe you're nervous to make a change in your work, or make a decision about having or not having a family, or you need to work outside of art market trends, or you want to move from working full-time at your job to part time so you can make more art. It can really be anything. The book's message is to resist the safety of herd-think, and forge your own iconoclastic way.
Let's talk shop? Tell us more about your career, what can you share with our community?
In my art practice, I am utterly obsessed with nature and landscape. I love trees and how strange and personified they are. First, I make straight drawings and paintings of actual scenes that I find on hikes or while driving, and then I cut them up and scramble them through the fractal filter of collage. The collage process is so mysterious and surprising, and it has a unique way of tapping into randomness and the subconscious. It's fascinating to see what happens to landscape when it gets chewed up and spit out from the wormhole of collage. A snippet of tree from one oil painting might get clipped out and placed into a colorful abstract environment, or a branch might get stuck atop another shape to form a strange new plant. The mind-bending mashups are endless.
Lately, I've been using the small paper collages as still life subjects for large paintings. Blown up and painted in oil in a trompe l'oeil style on canvas, the large painted copies function a bit like monuments to those magical coalescing moments.
I'm also starting to create sculptures made of Super Sculpey clay and oil paint. These merge unique trees I've found locally and Staffordshire mantelpiece figurines. My plan is to exhibit all three bodies of work together to form an immersive experience in the gallery.
A career as a fine artist is rewarding but rarely easy, and hardly ever glamorous. It can sometimes feel like a slog, and there may be years of wandering in the desert of indifference and rejection. There are also good years of shows and reviews and sales and collector dinners, but all too soon you can find yourself back in the desert again. An artist's life is long, but it isn't a steady climb. Rather, it consists of peaks and valleys. The trick is to remember to enjoy the making. A supportive community helps a lot too.
In October 2021, I started a podcast called Pep Talks for Artists….and nope, I had no idea how to make a podcast before that. Back in May 2021, during the pandemic, I began hosting a live weekly social audio show on the Clubhouse app with my friend and artist, Jennifer Coates. The show was created to hold space for artists' conversations in a period of deep isolation. After things opened up again, I transitioned the show to a podcast format.
I won't lie, the ramp-up to getting savvy with audio editing software, microphones, pop filters, music licensing, writing and scripting episodes (I learned 1 handwritten page equals 1 minute of podcast) was a tad arduous. But my friend, Frank Bango, a NY-based singer-songwriter with a recording setup, showed me the ropes and helped me get my first 3 episodes out. Turns out that once you've got the hang of it, producing a podcast is really fun. I record in a humble closet full of spare pillows, and I put out a mix of short audio essays, long-form artist interviews, and book reviews. Audio essays like "Beware the Leave-It-Like-That," "How Is an Artist Like TV's Columbo?" or "Mid-Life Artistic Big Bangs" are mixed in with deep dives into working artists' practices. I also do book reviews with cohost and artist, Mandolyn Wilson Rosen. We've tackled favorites like 'Ways of Seeing" or "The War of Art," among others.
I love to use quotes and stories I find about famous artists to weave into the podcast episodes too. Check it out: Louise Bourgeois also felt ignored most of her life, and now look! Or, let's investigate what famous artists started making their known work much later in life. Looking at you, Rothko (45), Cezanne (65) and Mondrian (49).
Podcasts are audio-only and, as artists, we are a visual people. Therefore, getting people to talk about visual ideas using only language is a fun challenge. Artists are accustomed to talking over an orderly series of slides, so getting people off the rails a bit and into the purely verbal arena is exciting. Suddenly, you have to think about how to put something nonverbal into words, and that's when it gets good.
The podcast is in excellent company. Many other great art podcasts are available for studio listening. But I think what makes "Peps" unique is that it is motivation and encouragement for artists, made by an artist who ALSO needs motivation and encouragement (perhaps even more than the listener). We all need oases along the long path. I'm not anyone's guru. I'm just an artist like you and I'm a weirdo like you, and let's just try to weather the crises of confidence together.
Many books and podcasts serve the beginner artist: a person trying to find their voice or begin their career. Pep Talks is specifically for the working artist: a person who is consistently making work and might be doing all the right things, but still needs a little boost from time to time. Even if we do everything we're supposed to do (make good work, work hard, network, Instagram)…it's still tough out there.
Any places to eat or things to do that you can share with our readers? If they have a friend visiting town, what are some spots they could take them to?
Although I don't live in LA, I'm a die-hard alternative comedy fan. If I was there now, I would be bee-lining directly to the Largo at the Coronet and Dynasty Typewriter theaters to see amazing comics like Maria Bamford and Paul F. Tompkins.
But meanwhile, back in the Hudson Valley in Upstate NY, I would take visitors inside the Old Dutch Church, built in 1660 in Uptown Kingston, that boasts a period graveyard and a really magnificent interior. Next, I'd take them horseback riding at Bailiwick Riding Stables in Catskill and request Clyde, the palomino draft horse with a mind of his own, who likes to spontaneously take alternative routes away from the trail so much so that kids aren't allowed to ride him (Way to risk the butterfly, Clyde!). Then we'd hit Woodstock and visit the best candle store on Earth named, you guessed it: Candlestock –perfect for your next magical spell.
Art-wise, I recommend visiting Labspace in Hillsdale, NY, for great experimental art shows. Also, I recommend the Samuel Dorsky Museum in New Paltz, NY, because they show and collect regional artists as part of their mission. Other interesting art spaces are Turley Gallery and Hudson House (Hudson), Mother, Analog and Fridman Galleries (Beacon), The Albany International Airport Gallery, and finally, ArtPort (Kingston), Mother-in-Law's (Germantown) and Geary (Millerton). There are so many more but these are some of my faves.
I would finish off the day at the dark-and-cozy-green-velveteen-slightly-Bavarian bar at Silvia's in Woodstock, or in one of the old original wooden booths at The Dutch Ale House in Saugerties.
The Shoutout series is all about recognizing that our success and where we are in life is at least somewhat thanks to the efforts, support, mentorship, love and encouragement of others. So is there someone that you want to dedicate your shoutout to?
In particular, I'd like to give a shoutout to Frank Bango, at Sincerity Inc., for helping me launch the first 3 episodes of my podcast, Pep Talks for Artists. Huge shoutouts also to Jennifer Coates, Mandy Wilson Rosen, Sharon Butler and Paddy Johnson for their support and words of encouragement along the podcast way. Thanks also to my husband, Jeremy, for lending me his one and only microphone and mic stand to record with, and then accepting with grace that they were never going to be returned.
Art-wise, I'd like to shout out some artists who helped me stay the course while making a really big change in my work: Meg Lipke, Paul D'Agostino, Mandy Wilson Rosen, The Hudson Valley Studio Group led by Courtney Puckett, Judy Glantzman, and Rita MacDonald.
Website: http://www.amytalluto.com
Instagram: Artist IG: @talluts and Podcast IG: @peptalksforartists
Facebook: https://www.facebook.com/amytalluto
Other: Find Pep Talks for Artists Podcast on all podcast players: Apple (Link: https://podcasts.apple.com/us/podcast/pep-talks-for-artists/id1591933339), Spotify (Link: https://open.spotify.com/show/2N00knT3PgYUaBl28gs5ep), Google (Link: https://podcasts.google.com/feed/aHR0cHM6Ly9hbmNob3IuZm0vcy82ZjU0NzAxYy9wb2RjYXN0L3Jzcw), etc…
Image Credits
James Petrozzello Photography (portraits), Lori Adams Photography (artwork)
Nominate Someone:
 ShoutoutLA is built on recommendations and shoutouts from the community; it's how we uncover hidden gems, so if you or someone you know deserves recognition please let us know 
here.